Portfolio
CECILIA is an always-on boost convertor for lithium battery power sources.

EDGAR is a PoE to EtherCAT P module with internal eFuses for splitting the power rails.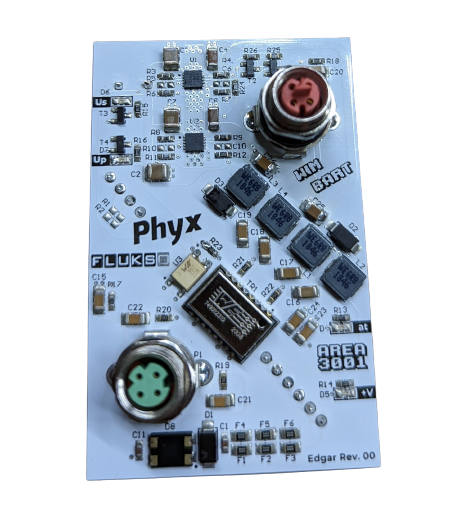 Easy to solder kit in the shape of a piano.
As a thank you for all the volunteers at Fri3d Camp 2022, we created this small SAO.
The badge for Fri3d Camp 2022, based around the ESP32 and a nice 240x240 LCD display.
One of the addons for the Fri3d Camp Badge of 2022 which transforms your badge in to a handheld gaming console.
One of the addons for the Fri3d Camp Badge of 2022 to convert your badge in to a Bluetooth keypad.
Kit card style solder kit based on the Space Shuttle Discovery.
ATmega328p based solder kit which can be used in conjuction with the Fri3d Camp badge or as standalone lastertag gun.
An Arduino compatible board which was used during the opening credits of the Belgian TV show Team Scheire.
Small sized Raspberry Pi compatible DAC so you can easily get high quality audio from the Pi.
16 powerful PWM channels with an I2C interface.
A kid friendly solderchallenge made for the Mini Makerfaire in Gent of which a thousand where soldered by attendees.
A badge based around the ESP32 for Fri3d Camp 2018.
A metal core LED ring that fits the RPi Zero and Rpi Camera.
Low Speed and Full Speed USB Isolator.
A low cost, easy to use FM radio.
A flash ring for your Raspberry Pi.
A Class-D amplifier for your Raspberry Pi
DIY Kit to use for a soldering workshop with kids.
DIY kit for an USB powered vibration robot.
An ESP12 based RGBW light module
A development board for the ESP12 and ESP12E WiFi modules.
Simple patch PCB for through hole or SMD headers